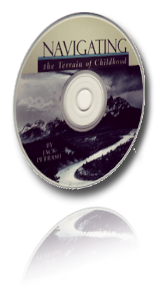 Navigating the Terrain of Childhood

CD
A Guidebook for Meaningful Parenting and Heartfelt Discipline
This recording of a talk given in Sacramento, CA, captures the spirit of the book and presents basic guidelines for healthy discipline with humor and imagination.
Subscribe to the podcast or listen online.
[Author] Jack Petrash has captured the essence of child-friendly and developmentally appropriate pedagogy at a time when this message is sorely needed in the United States. If his ideas could be implemented, I believe we would ameliorate many of the "ills" currently attributed to schools—simply by understanding the essential nature of children's learning and the special needs of the growing brain at different ages.
—Jane Healy, author of
Endangered Minds: Why Children Don't Think and What we Can Do About It
Articles
Parenting: Hold Them Close, Then Let Go
(pdf - 25k)

By Jack Petrash


Originally published in the Washington Post.

Leading Children Back to the Future In the Waldorf Classroom
(pdf - 145k)

By Jack Petrash